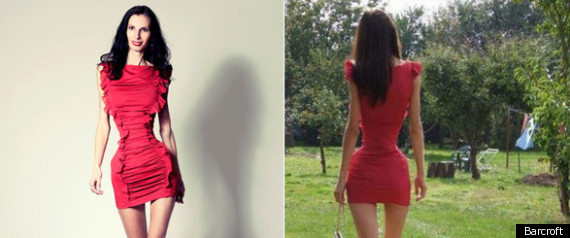 A woman with a waist of just 20 inches insists she tucks in three full meals a day, including snacking on fatty foods such as crisps, pizza and kebabs.
At 5ft 6ins and 38 kilos, 30-year-old Ioana Spangenberg's hips are 32ins but her waist is only five inches bigger than a CD.
"No one seems to believe it, but every day I eat three big meals and I snack on chocolate and crisps all the time," Spangenberg told Britain's The Sun newspaper.
Spangenberg was born a very normal baby of 3.17 kilos but says her body began transforming when she was a teenager.
She claims at age 13, she would get friends to put their hands completely around her 15in waist.
"I just have a small stomach. It's a bit like having a natural gastric band, if I eat too much, I feel sick," Spangenberg says.
Spangenberg married in 2006 and says her German husband Jan encouraged her into opting for modeling.
Hw's she coping.