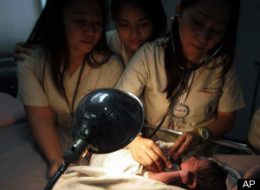 The baby boy born on a flight from the Middle East to the Philippines and abandoned in an airplane trash bag will be put up for adoption if the mother is not found or declared unfit, a government official said Tuesday.
The baby, named George Francis after Gulf Air's flight code GF, was doing fine, watched closely by nurses and social workers while authorities searched for his mother.
Officials have identified a person who occupied a bloodstained seat on the plane but are still verifying if she is the boy's mother, Social Welfare Secretary Corazon Soliman told The Associated Press.
"He is well. He takes a lot of milk, but he is being observed because there was a bump found on his head. But as far as the report from his checkup goes, his condition is good," she said.
The six pound, nine ounce (three kilogram) boy was discovered Sunday when a security officer on the tarmac spied something moving in one of the trash bags that were carried from the plane. He opened it, sifted through the rubbish and found the newborn wrapped with tissue paper and covered in blood.
The story evoked pity and outrage around the world. The infant – still attached to the placenta – was taken to an airport clinic, where doctors and nurses cleaned him, gave him a checkup, wrapped him in cloth and mittens and warmed him under a light bulb, airport doctor Maria Teresa Agores said.
Philippine officials have started searching for the mother of a newborn baby abandoned inside a plane that arrived in the Manila international airport.
Cleaners found the baby boy inside a rubbish bin in the toilet of a Gulf Air flight that arrived from Bahrain on Sunday, the Manila International Airport Authority (MIAA) said.
The boy was covered with blood and wrapped in tissue paper when found. Staff said blood stains were also found on two seats in the plane.
An airport medical team cleaned up the newborn, then rushed him to a hospital. He is in good condition, said an official of the Department of Social Welfare and Development, who has taken custody of the child.
Radio stations were swamped with calls offering adoption of the baby, but the welfare department said they are giving the mother a chance to come forward.