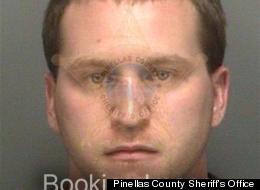 A man who worked for an animal shelter has been arrested after allegedly taking photographs of himself having sex with his girlfriend's dog.
Eric Antunes, 29, was found at his home after police in Clearwater, Florida were given a tip he was in possession of child pornography.
He was at home when they arrived and 'admitted to downloading and viewing child pornography from his home computer', police said.
When cops came to a man's house on a tip that he had child pornography, according to authorities, they found something they weren't expecting.
The Tampa Bay Times reports that Eric Antunes of Clearwater, Fla. was arrested on ten counts of possession of child pornography and an animal cruelty charge after cops said they found pictures of the man having sex with his girlfriend's dog.
The photos of the alleged bestiality were found on Antunes' phone, according to police.
Clearwater Patch reports that police allegedly found nine images of child pornographyand one video. Police say Antunes admitted to downloading and viewing child porn.
The Miami New Times notes that Florida passed a bestiality ban in October, 2011. "If he's charged, Antunes could be one of the first few people prosecuted under the new law," writes the New Times.
The story is at least the second bestiality story to make headlines in as many days.
On Wednesday, the Patriot News reported that Pennsylvania State Police arrested a man after he allegedly broke into a barn and performed oral sex on a horse.